A MidSummer's Night of Open Source in Singapore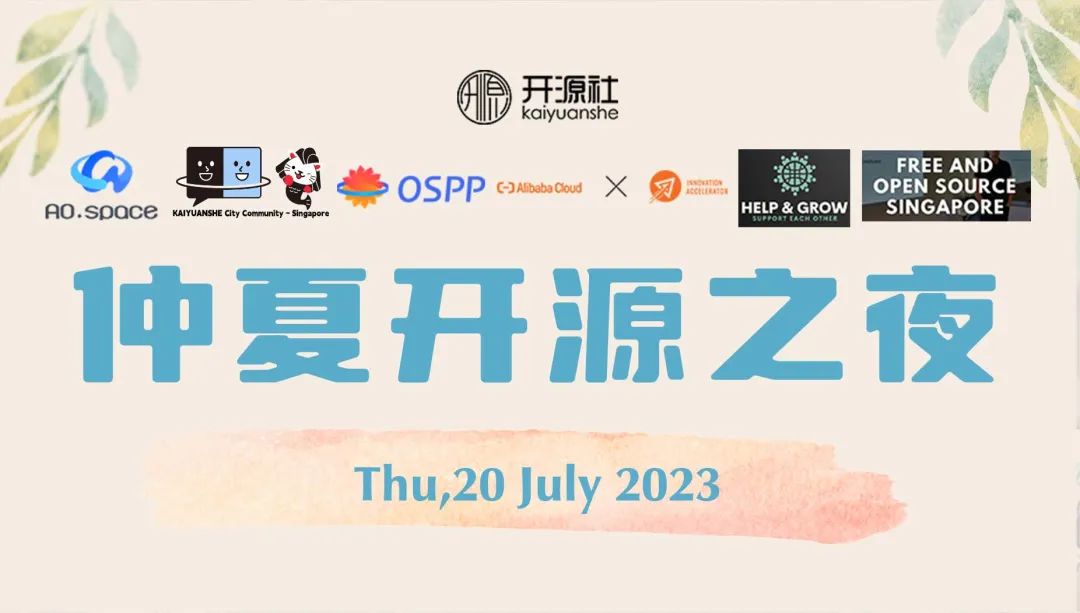 We know we are long overdue in our meetups so fret no further as we bring you our exciting July Open Source meetup event.
我们深知我们已经很久没有举办聚会了,所以别再担心了,因为我们为您带来了一个激动人心的七月开源聚会活动。
The Free and Open Source Singapore , Kaiyuanshe Singapore and Alibaba Cloud meetup is pleased to present an engaging evening to bring together all the open source enthusiasts in Singapore in an enchanted evening.
新加坡自由开源、开源社和阿里巴巴云计算携手合作,隆重呈现一个令人兴奋的晚上,汇聚新加坡的所有开源爱好者,共度一个神奇的夜晚。
We have brought together three speakers, each a specialist in different facets of open source technology, to share their insights and expertise. We will conclude with an interactive Q&A session followed by networking.
我们邀请了三位演讲嘉宾,每位都是开源技术的专家,他们将分享他们的见解和专业知识。活动结束后将进行互动问答环节。
Click "Schedule a live stream" to watch the live stream

点击"预约"观看直播

Event Agenda
活动议程
18:30 - 18:45 hrs: Welcome Remarks
18:30 - 18:45:欢迎致辞
Welcome and Introduction:Alibaba Cloud
阿里巴巴云计算进行欢迎和介绍
Introduction of Free and Open Source Singapore Meetup
介绍新加坡自由开源聚会
Introduction of KaiyuansheSG
介绍开源社新加坡
18:45 - 19:05 hrs: Chen Haidong, Director of Solution Architect, Alibaba Cloud Intelligence
18:45 - 19:05:陈海东,阿里巴巴云智能解决方案架构总监
Haidong (David) Chen focuses on Ecommerce Industry Solution and Compliance, Cloud Native, and Data and Artificial Intelligence solution. As Daraz's former infrastructure director, he migrated Daraz from AWS to Alibaba Cloud, and leveraged the PAI platform to extend gitops to MLops.
陈海东专注于电子商务行业解决方案与合规、云原生、数据和人工智能解决方案。作为Daraz前基础架构总监,他将Daraz从AWS迁移到阿里巴巴云,并利用PAI平台将gitops扩展到MLops。
Topic: AIGC (AI Generated Content) Open-source Solution
主题:AI生成内容开源解决方案
Join us as we delve into the Alibaba Cloud AIGC Open Source Solution—an advanced platform that has significantly contributed to AI development. This platform offers accessible tools and a wide range of resources, enabling developers to effortlessly create intelligent applications.
让我们一起深入探讨阿里巴巴云AIGC开源解决方案——这是一个为AI开发做出了重大贡献的先进平台。该平台提供易于使用的工具和丰富的资源,使开发人员能够轻松创建智能应用程序。
19:05 - 19:25 hrs: Wang Jianmin, ISCAS and Kaiyuanshe Singapore
19:05 - 19:25:王建民,中科院和开源社新加坡
Jianmin,an accomplished software engineer from China with over a decade of Operating Systems experience, serves on the openEuler community's Technical Committee and initiated the student-focused Summer-OSPP open-source project.
王建民是一位经验丰富的中国软件工程师,拥有十多年操作系统经验,他在openEuler社区的技术委员会担任职务,并发起了面向学生的Summer-OSPP开源项目。
Topic: Open Source Technologies for Safeguarding Personal Data Ownership
主题:保护个人数据所有权的开源技术
This presentation will discuss key technologies, such as distributed identity (non-blockchain), end-to-end encryption over HTTPS, and local-first design, that address these challenges. Furthermore, It will also emphasize the importance of open source in protecting personal data ownership and share best practices.
此演讲将讨论关键技术,如分布式身份(非区块链)、端到端的HTTPS加密和本地优先设计,以解决这些挑战。此外,演讲还将强调开源在保护个人数据所有权方面的重要性,并分享最佳实践。
19:25 - 19:45 hrs: Max Lorenz, Tech guru in AI startup, Co-organizer FOSSG
19:25 - 19:45:Max Lorenz,人工智能创业公司的技术专家,自由开源新加坡组织者之一
Max originally hails from Germany and had been in Singapore since 2018. Now happily married and an ardent supporter of open source, he had been working in an AI startup specializing in LLM (Large Language Model) and also part of the organizer team of FOSSG.
Max 最初来自德国,自2018年以来一直在新加坡工作。现在他已经结婚,是开源的狂热支持者,曾在一家专门从事 LLM(大型语言模型)的人工智能创业公司工作,并且是 FOSSG 组织团队的一员。
Topic: Deciphering the latest frenzy on AI and open source technologies
主题:解读人工智能和开源技术的最新热潮
Max will share the latest development on open source projects on AIsuch as semantic search, LLM (Large Language Models) and Langchain.
Max 将分享关于人工智能开源项目的最新进展,如语义搜索、LLM(大型语言模型)和 Langchain。
19:45 - 20:00 hrs: Q&A Session
19:45 - 20:00:问答环节与听众互动的环节
An interactive session where the audience can ask questions directly to the speakers
听众可以直接向演讲嘉宾提问
Moderated by the event moderator
由活动主持人主持
20:00 - 20:25 hrs: Networking Session
20:00 - 20:25:社交交流环节
An opportunity for attendees to interact with the speakers and each other, fostering connections and collaborations.
与演讲嘉宾和其他与会者互动的机会,促进联系和合作。
20:25 - 20:30 hrs: Wrap-up
20:25 - 20:30:总结
Wrap up

活动总结
Acknowledgement of the speakers, attendees, and organizing partners: Alibaba Cloud, Free and Open Source Singapore Meetup, and KaiyuansheSG.
对演讲嘉宾、与会者和组织合作伙伴阿里巴巴云计算、自由开源新加坡聚会和开源社新加坡表示感谢。
Post-event networking
会后交流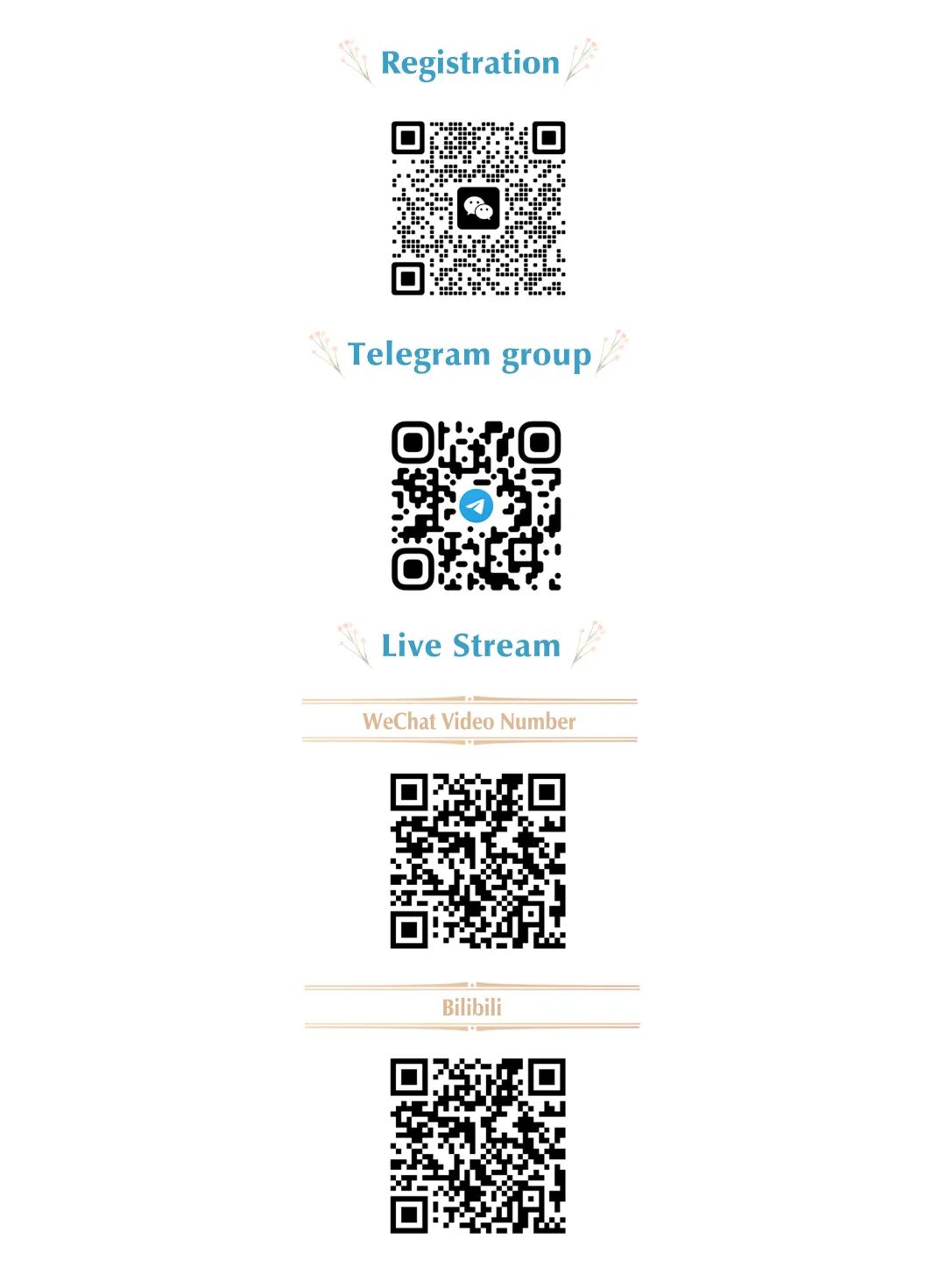 作者 | KCC@新加坡

设计丨王梦玉
编辑丨李楠